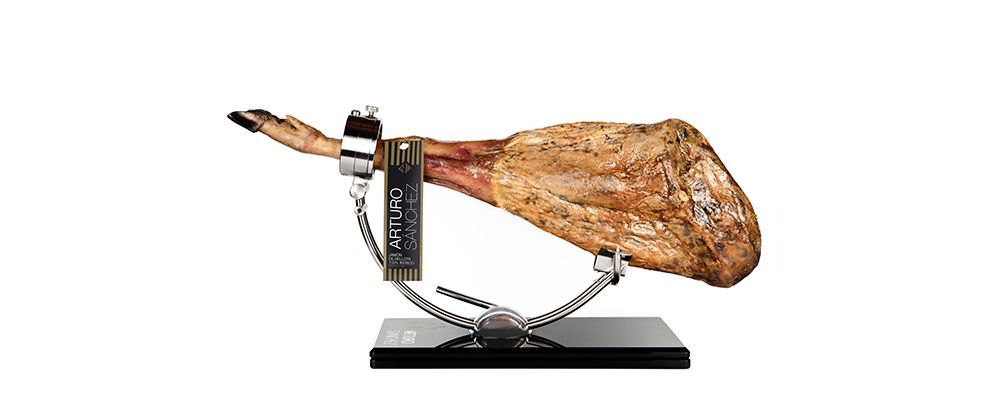 ACORN-FED 100% IBERICO JAMON
– GRAND RESERVE –
SUBLIME BY NATURE
Arturo Sanchez's soul. The insignia of the pillars that support our company since 1917: excellence, honesty, tradition.
Representing Spanish gastronomy's jewel, each piece of Jamon Iberico is unique. Achieved by the confluence / through the use of the best animals, pure breed and raised in the best dehesas, followed by a natural drying process in our cellars in Guijuelo.
Time and knowhow are our allies: the pigs live freely for two years in the dehesas. Surrounded by oat holm trees and eating their acorns during with two montaneras to guarantee double the amount of acorn and benefit from its health and nutritional value. After this the Jamon Iberico legs, are dried in natural cellars in Guijuelo for a minimum period of 48 months; with the help of the Bejar and Gredos mountains cold and dry air.
This ensemble leads to a unique 100% acorn fed Jamon Iberico, with exceptional characteristics. An authentic gastronomy jewel.
Everyday is different, it is a real challenge, and only a deep knowhow of over 100 years of experience that is treasured by a family that loves its job can guarantee that the 100%acorn fed Jamon iberico that reaches your plate us unique within the Ibericos: an essence of pure taste, calibrated and complete. Unforgetable.
APPEARANCE
Brilliant and uniform, with excellent fat coverage.
Ham slices are deep red in colour, spotted by tyrosine, the amino acid that crystallises as a result of an excellent curing process.
TEXTURE
Juicy texture, very pleasant in the mouth.
Tender but firm: it preserves its structure while chewed.
AROMA
Potent, pleasant, specific, attractive aromas. Long-lasting, very marked and clear.
At the base, there are very frank notes of fresh nuts.
TASTE
A fine, personal, balanced, tasty flavour. This is an elegant ham, its key flavours are already present while still in mid-palate.
The excellent balance in terms of salt reveals some adequate, light and clear sweet notes which tone down the typical bitter spots with great precision.
Nutritional information (per 100g)
| KJ/KCAL | PROTEINS | FAT |
| --- | --- | --- |
| 1539/369 | 33.8 g | 25 g *Saturadas (8.02 g) |
| CARBOHYDRATES | SUGAR | SALT |
| --- | --- | --- |
| 2.3 g | < 0.5 g | 3.95 g |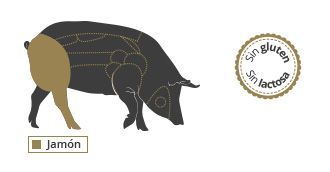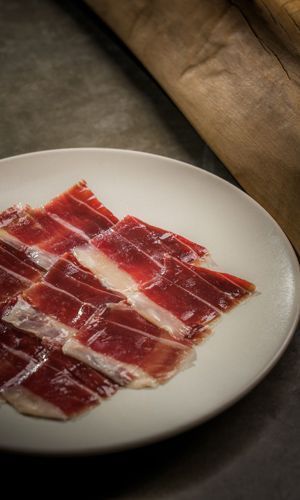 You can enjoy Arturo Sanchez Acorn-fed Jamon iberico in amazing recipes or just with bread. There are thousand ways but the real one is to experienced it on its own, without anything else. Temperature is key: it should be about 24ºC, and the slices shine when cut with a knife, just a few millimetres thick and about three centimetres long.
After, you have to surrender to your senses: first, the nose reveals a potent, pleasant aroma with notes to fresh nuts. This will activate the taste buds; only then the whole slice must be put in the mouth, without breaking it, and placing it directly against the roof of the mouth.
The fat, will slowly melt until fusing itself to the lean meat, which will then explode in the mouth with that nimble flavour, pure, persistent, elegant and full of nuances that can only be brought about by the pure acorn-fed Iberian ham.
Fino wine, manzanilla wine, lager beer, white and young Reus vermouth are good pairing for Acorn-fed 100% iberico Jamon from Arturo Sánchez.


ACORN-FED 75% IBERICO JAMON
– RESERVE –
Our acorn-fed 75% Iberico pigs reach 18 or even 20 months of age. They are older than the pigs usually used in this category. This allows us to obtain pigs with a double montanera and therefore a higher consumption of acorn during their lifetime.
They live in the dehesas, freely roaming around oat holm trees and feeding on their acorns.
This way the pigs grow and increase weight of up to 70kg in their second montanera. From these pigs we make our Acorn-fed Jamon 75% iberico, with at least 36 months of natural drying in our cellars in Guijuelo.
Available in these formats: bone-in, bone-less and sliced.
FREE-RANGE 50% IBERICO JAMON
We are also different in this iberico category because we know how to wait. These pigs, are born and raised freely in the dehesas feeding since the start with acorns, and in this case also with cereals.
Our iberian "Cebo de campo" free-range pigs reach 14 months of age instead of the industry average of 10 months. These extra months allow further properties and characteristics to develop differently such as its aroma, flavor and appearance
Available in these formats: bone-in, bone-less and sliced.