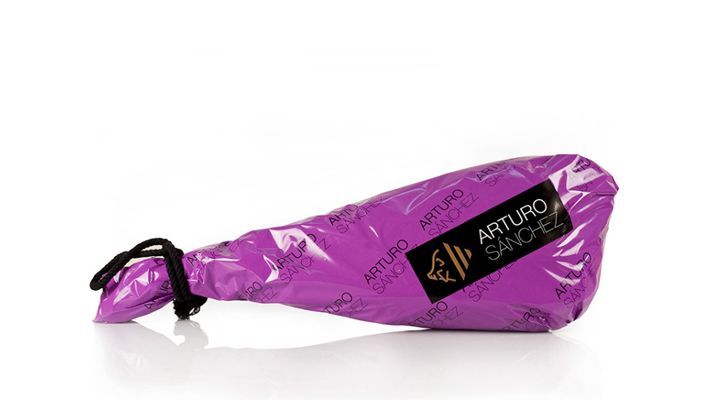 ACORN-FED 100% IBERICO PALETA
– GRAND RESERVE –
IBERICO ESSENCE
The front legs of our acorn-fed 100% iberian pig are used to make Arturo Sanchez's Paleta Iberica. A unique product. These 100% iberian pigs have been roaming freely during their two years of life and have a double montanera season.
A perfect point of salt given by our natural drying process over more than 30 months gives as a result an excellent product with the perfect fat infiltration.
An aroma and taste that always surprise you.
APPEARANCE
Brilliant and uniform, with excellent fat coverage..
Paleta slices are deep red in colour, spotted by tyrosine, the amino acid that crystallises as a result of an excellent curing process.
TEXTURE
Juicy texture, very pleasant in the mouth. Tender but firm: it preserves its structure while chewed
AROMA
Potent, pleasant, specific, attractive aromas. Long-lasting, very marked and clear.
At the base, there are very frank notes of fresh nuts.
TASTE
A fine, personal, balanced, tasty flavour. This is an elegant ham, its key flavours are already present while still in mid-palate.
The excellent balance in terms of salt reveals some adequate, light and clear sweet notes which tone down the typical bitter spots with great precision.
Nutritional information (per 100g)

| KJ/KCAL | PROTEINS | FAT |
| --- | --- | --- |
| 12286/552 | 27.8 g | 27 g*Saturadas (16.34 g) |
| CARBOHYDRATES | SALT |
| --- | --- |
| 0.9 g | 4.52 g |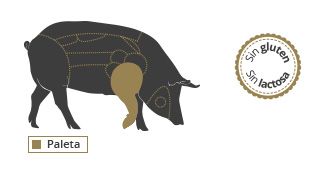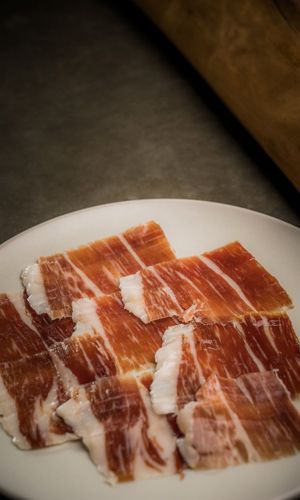 You can enjoy Acorn-fed Paleta Iberica in amazing recipes or just with bread. There are thousand ways but the real one is to experienced it on its own, without anything else. Temperature is key: it should be about 24ºC, and the slices shine when cut with a knife, just a few millimetres thick and about three centimetres long.
After, you have to surrender to your senses: first, the nose reveals a potent, pleasant aroma with notes to fresh nuts. This will activate the taste buds; only then the whole slice must be put in the mouth, without breaking it, and placing it directly against the roof of the mouth.
The fat, will slowly melt until fusing itself to the lean meat, which will then explode in the mouth with that nimble flavour, pure, persistent, elegant and full of nuances that can only be brought about by the Acorn-fed 100% iberico Paleta.


ACORN-FED 75% IBERICO PALETA

– RESERVE –
From our Acorn-fed and double montanera pigs, we obtain the Acorn-Fed 75% iberico Paleta – Reserve -. With a minimum cure of 24 months, always in our Guijuelo drying rooms and natural cellars.
Also available in bone-less and sliced ​​format.

PALETA DE CEBO DE CAMPO
50% IBÉRICA
Elaborada a partir de nuestros cerdos ibéricos de cebo de campo de 14 meses de edad, con el punto justo de salinidad y con una curación completamente natural, conseguimos de nuevo unas propiedades distintivas fácilmente apreciables en su aspecto, aroma y sabor.
Also available in bone-less and sliced ​​format.