Only the best iberico pigs are raised in the best dehesa fields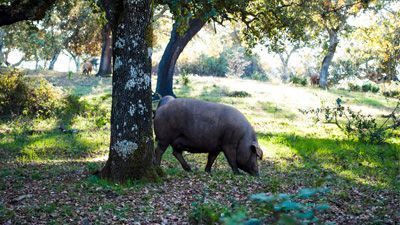 Our starting point is a unique raw material, raised exclusively for Arturo Sánchez by experts.
Our pigs are selected in accordance with our requirements in terms of breed, age and food. We know what we want and we work exclusively with trusted breeders, in the best dehesa fields located in the north of Seville and in the south of Extremadura province. They are true experts in the breeding of the iberico pig and, just like us, they are passionate about what they do. They are in the dehesa fields from dusk till dawn, keeping an eye on our animals so that they are properly fed while growing freely.
We are the only ones who wait, year after year, until our acorn-fed, 100% iberico pigs reach two years of age and, therefore, have been fed with acorn for two "montanera" seasons instead of just one.
Thus we get pigs with fully developed muscle and bone mass, with healthy fat infiltration in the muscle, which provides a level of oleic acid only surpassed by olive oil.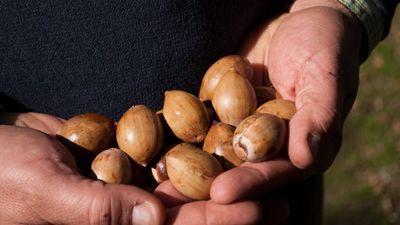 We are what we eat
Us and them. That's why, after picking the best animals, we keep a close eye on what they eat. Their food, the acorns just fallen from holm oaks and cork oaks during two long seasons, give a far superior quality to all our products.
The combination of 100% Iberico purebred, the age (practically twice the standard in the sector) and an acorn-based feed during two long "montanera"seasons, results in a unique quality of meat and infiltrated fat.
This is the base of our Iberico production, unique among iberico products, because we are different from the very start.